Overview
There are many different conditions in childhood and adult life that can lead to deformity of a limb or difference in leg lengths. Treatment for these conditions depends on the condition being treated, the age of the child and the amount of deformity or shortening. Generally, only a final difference of leg length of 2cm or more requires surgical treatment. An outline of treatment options is given below.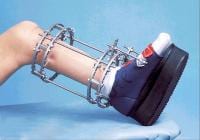 Causes
There are many causes of leg length discrepancy. Structural inequality is due to interference of normal bone growth of the lower extremity, which can occur from trauma or infection in a child. Functional inequality has many causes, including Poliomyelitis or other paralytic deformities can retard bone growth in children. Contracture of the Iliotibial band. Scoliosis or curvature of the spine. Fixed pelvic obliquity. Abduction or flexion contraction of the hip. Flexion contractures or other deformities of the
knee
. Foot deformities.
Symptoms
The most common symptom of all forms of LLD is chronic backache. In structural LLD the sufferer may also experience arthritis within the
knee
and hip are, flank pain, plantar fasciitis and metatarsalgia all on the side that is longer. Functional LLD sufferers will see similar conditions on the shorter side.
Diagnosis
Leg length discrepancy may be diagnosed during infancy or later in childhood, depending on the cause. Conditions such as hemihypertrophy or hemiatrophy are often diagnosed following standard newborn or infant examinations by a pediatrician, or anatomical asymmetries may be noticed by a child's parents. For young children with hemihypertophy as the cause of their LLD, it is important that they receive an abdominal ultrasound of the kidneys to insure that Wilm's tumor, which can lead to hypertrophy in the leg on the same side, is not present. In older children, LLD is frequently first suspected due to the emergence of a
progressive
limp, warranting a referral to a pediatric orthopaedic surgeon. The standard workup for LLD is a thorough physical examination, including a series of measurements of the different portions of the lower extremities with the child in various positions, such as sitting and standing. The orthopaedic surgeon will observe the child while walking and performing other simple movements or tasks, such as stepping onto a block. In addition, a number of x-rays of the legs will be taken, so as to make a definitive diagnosis and to assist with identification of the possible etiology (cause) of LLD. Orthopaedic surgeons will compare x-rays of the two legs to the child's age, so as to assess his/her skeletal age and to obtain a baseline for the
possibility
of excessive growth rate as a cause. A growth chart, which compares leg length to skeletal age, is a simple but essential tool used over time to track the progress of the condition, both before and after treatment. Occasionally, a CT scan or
MRI
is required to further investigate suspected causes or to get more sophisticated radiological pictures of bone or soft tissue.
Non Surgical Treatment
Treatments for limb-length discrepancies and differences vary, depending on the cause and severity of the condition. At
Gillette
, our orthopedic surgeons are experts in typical and atypical growth and development. Our expertise
lets
us plan treatments that offer a lifetime of benefits. Treatments might include monitoring growth and development, providing noninvasive treatments or therapy, and providing a combination of orthopedic surgical procedures. To date,
alternative
treatments (such as chiropractic care or physical therapy) have not measurably altered the
progression
of or improved limb-length conditions. However, children often have physical or occupational therapy to address related conditions, such as muscle weakness or inflexibility, or to speed recovery following a surgical procedure. In cases where surgical treatment isn?t necessary, our orthopedists may monitor patients and plan noninvasive treatments, such as, occupational therapy, orthoses (braces) and shoe inserts, physical therapy, prostheses (artificial limbs).
how to increase height after 21
Surgical Treatment
Surgical treatments vary in complexity. Sometimes the goal of surgery is to stop the growth of the longer limb. Other times, surgeons work to lengthen the shorter limb. Orthopedic surgeons may treat children who have limb-length conditions with one or a combination of these surgical techniques. Bone resection. An operation to remove a section of bone, evening out the limbs in teens or adults who are no longer growing. Epiphyseal stapling. An operation to slow the rate of growth of the longer limb by inserting staples into the growth plate, then removing them when the desired result is achieved. Epiphysiodesis. An operation to slow the rate of growth of the longer limb by creating a permanent
bony
ridge near the growth plate. Limb lengthening. A procedure (also called distraction osteogenesis or the Ilizarov procedure) that involves attaching an internal or external fixator to a limb and gradually pulling apart bone segments to grow new bone between them. There are several ways your doctor can predict the final LLD, and thus the timing of the surgery. The easiest way is the so-called Australian method, popularised by Dr. Malcolm Menelaus, an Australian orthopedic surgeon. According to this method, growth in girls is estimated to stop at age 14, and in boys at age 16 years. The femur grows at the rate of 10 mm. a year, and the upper
tibia
at the rate of 6 mm. a year. Using simple arithmetic, one can get a fairly good prediction of future growth. This of course, is an average, and the patient may be an average. To cut down the risk of this, the doctor usually measures leg length using special
X-ray
technique (called a Scanogram) on three occasions over at least one year duration to estimate growth per year. He may also do an
X-ray
of the left hand to estimate the bone age (which in some cases may differ from chronological age) by comparing it with an atlas of bone age. In most cases, however, the bone age and chronological age are quite close. Another method of predicting final LLD is by using Anderson and Green?s remaining growth charts. This is a very cumbersome method, but was till the 1970?s, the only method of predicting remaining growth. More recently, however, a much more convenient method of predicting LLD was discovered by Dr. Colin Moseley from Montreal. His technique of using straight line graphs to plot growth of leg lengths is now the most widely used method of predicting leg length discrepancy. Whatever method your doctor uses, over a period of one or two years, once he has a good idea of the final LLD, he can then formulate a plan to equalize leg lengths. Epiphyseodesis is usually done in the last 2 to 3 years of growth, giving a maximum correction of about 5 cm. Leg lengthening can be done at any age, and can give corrections of 5 to10 cm., or more.